The Middle of Everywhere (Wonderheads)
Saskatoon Fringe Festival
4.5 Stars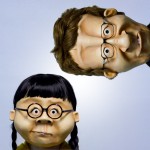 An existential exploration of life, a commentary on the minutiae of the world, and…a visit from a giant bear monster.  Poignantly expressive characters, a full gamut of emotion, and all from masks that don't actually move, speak or physically alter expression.
They are, of course, the Wonderheads.  Back again, and fast becoming a Fringe favourite.
In this story, a young girl, her stuffie, and a somewhat obsessive man go on an adventure.  To everywhere.  To nowhere.  To…it doesn't matter, really.  Emily Windler and Kate Braidwood have mastered the physicality required to portray their respective 'heads, and every move – from a step, to a sweep of the arm – is firmly in character.
The action can get a bit slow at times, but again, the characterization is so excellent that the audience stays riveted.  And excellent piece of theatre.