Camel Camel (Glittergizzard)
Edmonton Fringe Festival
3.5 Stars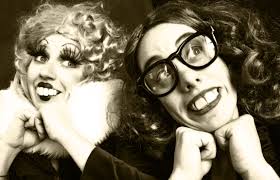 Existential clowning.  That's what this is, really.  Exploring life and death and transformation, through clown.
This is very much what Vaudeville used to be.  It could be seen as a commentary on society – on theatre, on change.  On death, on how relationships alter and yet remain the same through the passage of time.  Or it could just be two clowns running around "In Egypt", one of them dressed as a camel.
This is a talented duo, and it's the sort of old-timey theatre we unfortunately don't get to see much today.  The actors are completely committed to their characters, and the audience very much enjoyed it.  For me…well, it just isn't my thing.  But objectively, it is an interesting, original concept and well worth seeing.