Piaf and Brel: The Impossible Concert

Edinburgh Fringe Festival
5 Stars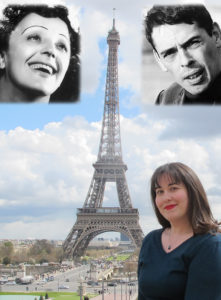 Melanie Gall is a musical marvel.  An international performer trained in opera (wait for those 'Queen of the Night' high notes!) Gall showcases her cabaret chops in her one-woman cabaret, Piaf and Brel: The Impossible Concert.
Gall treats the audience to a concert of 55 minutes of Piaf and Brel's greatest hits, accompanied by interesting and relevant stories about their lives.  Some of these stories (such as Piaf's tryst with married boxer Marcel Cerdan) are well-known, and others (like the story behind Brel's hit 'Ne me Quitte pas') are the sort of information that only the most die-hard fan can impart.
Gall is a fabulous singer with incredible tone and breath control.  Her French diction is impeccable, and her love for her subject matter is evident.  By the end of her first sung phrase, she had captured the attention (and possibly the hearts) of everyone in attendance.
The show ended with the entire theatre singing, and the full house was clamoring for more – luckily, Gall is presenting another two shows at this festival, and so audiences need not wait long…