Sweeney Todd

Edinburgh Fringe
4 Stars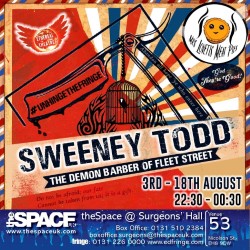 To be honest, I did not expect to like this adaptation of the iconic musical/operetta Sweeney Todd.  The demon zombies…the two-hour late-night time slot (which is long for the Edinburgh Fringe, where shows usually clock in at just under an hour).  There is also the fact that I know every note of this musical, and have pretty high expectations for Sweeney Todd productions.  And I am so incredibly pleased that I was wrong, and that overall, this production was musically-accurate, articulate and compelling.
With that in mind, any of the following criticisms are put forth as suggestions to improve what is already a very good show that exceeded expectation.
First off, there were ongoing issues with the microphones.  Often the sound would boom, or would cut out completely.  As this is a mostly-sung show, good sound should be a priority.  There were also lighting issues, with actors often speaking in full darkness, with the empty area beside them lit.  The show had live accompaniment, which was really nice.  There was even a bassoon (a luxury in a touring production).  This small orchestra was excellent throughout, however at times it was so loud that it was like being hit by a wall of sound, and my ears are actually ringing from the volume level (however, this is an easy fix).
The musical language of Sweeney Todd is not easy for singing actors.  The key to a good performance is making the difficult music sound natural.  Not all of the singers achieved this, and there was a wide range of singing ability.  The ensemble were all good singers, moved in character throughout, and worked well together.
There were three outstanding performances that need to be mentioned, because they made the show:  First off, Rob Wilson (Anthony).  He acted well, and his characterization of Anthony was completely believable.  His vocal tone was pure and truly beautiful, and he sung his aria with real emotion.  Jack Davies was powerful as Sweeney Todd.  He sung well, acted with energy and purpose, and again, I completely believed his Sweeney.
The standout performance of this show, however, was Ciara Waterfield's luminous portrayal of Mrs. Lovett.  Waterfield became Mrs. Lovett.  She is an exceptional actor and a talented singer, who made this difficult music sound simple.  Waterfield should be onstage in Broadway or in the West End – not someday, but now.  She is that good.  She made the entire show.  I have no doubt that she will be a star one day, and everyone who has seen this production of Sweeney Todd will be saying, "I knew her when…"
Overall, Sweeney Todd was one of the highlights of my Edinburgh Fringe experience, and it should not be missed.