The Legend of White Woman Creek (The Coldharts)
Edmonton Fringe Festival
4 Stars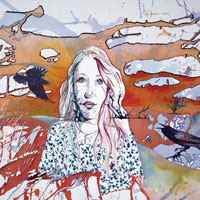 The Legend of White Woman Creek is described as a 'folk opera'.  However, I don't want to review it as an opera.  The staging is minimal, much of the characterization is 'telling' instead of 'showing' (although the 'telling' is always done in character), and the music lacks the harmonic depth one would expect in an opera (even folk songs can be extremely interesting harmonically…look at the music of Copeland, or the British Folk Song settings by Benjamin Britten).  So I don't want to think of it as an opera.  But as a modern, folk-inspired song cycle…
The Legend of White Woman Creek was, in many ways, a rare treat.  An hour of singing – the songs were performed with real passion by vocalist Katie Hartman – with few breaks.  She stood behind a microphone and accompanied herself adeptly on her guitar – a simple and effective staging choice.  In fact, apart from the beginning – setting out candles and literally 'changing' into character – there was no additional staging.  And it worked.  The overall simplicity of the presentation added to the eerie mood of the story.  The combination of singing and music seemed to cast a spell of stillness over the audience (Although the hot day may have also contributed to the somewhat soporific effect).
The story is interesting and integrated well into the songs.  I would have liked to see the narrative start out happier – more of an arc, so that the tragic moments were more starkly juxtaposed.   Clearer diction (or a better sound system) would have been nice – much of the story was often hard to understand, because the text was lost.  It would have also been nice to have more variation in the music, and perhaps more spoken dialogue between songs – the brief snippets of dialogue were truly effective.
The above are just details.  It made me very happy to see this sort of singing show being successfully presented, and it's a tight, professional production by a talented actress who is truly passionate about her art.