Aiden Flynn Lost His Brother So He Makes Another (Theatre Howl)
Saskatoon Fringe Festival
4 Stars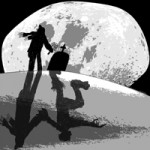 This was a beautiful piece of theatre.  A clever and effective mix of music, movement and shadow puppets were employed in telling this modern Frankenstein story.
Danielle Spilchen was wonderful as the 'created' brother, and Morgan Murray was a likeable and talented Aiden Flynn.
This is an original, impressively-conceptualized show.  It is, however, somewhat rough around the edges.  Such a simple but believable world was created on the front of the stage, however the actors were in full view as they prepared the shadow puppets and changed costumes on the rear of the stage, and this often broke the mood they were trying to create.  Also, the end is a bit abrupt, and jarring when compared to the rest of the show.
But aside from some minor tweaks, this has the potential to become a strong, lasting piece of theatre, with a life well beyond the fringe, and it is well worth seeing.