Clowntown

Edinburgh Fringe Festival
5 Stars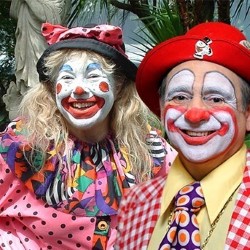 Clowns have had a bad rap recently, and as a lifelong fan of clowning, it was a pleasure to see a well-executed, family-friendly, thoroughly enjoyable clown show.  Clowntown is a whimsical mix of jokes, magic, music and stories, presented by Canadian clowns 'Patti' and 'Dandy'.
The honest camaraderie between these two consummate performers is evident – they are not merely performing TO a roomful of children, but they are using their considerable skills to perform WITH the children, teaching through magic and stories.
Both the children in the audience and their parents seemed delighted throughout the sold-out, hourlong show.  I highly recommend Clowntown, for a nostalgic hour where clowns are clowns, kids can be kids, and adults can just sit back and laugh along.  Well-crafted and infectious fun from two highly talented Canadians.