All KIDding Aside

Edmonton Fringe (reviewed at the Edinburgh Fringe Festival, 2017)
4 Stars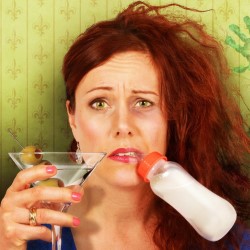 All KIDding aside is a mix of confessional-monologue, physical theatre and mask, used to explore performer Christel Bartelse's dilemma of if she will (or won't… or can…or can't…) have a baby.
This show was well-executed, with compelling mask work and thoughtful dialogue. Bartelse is clearly a professional performer, and this piece showcases several of her talents. I was, however, quite confused as to if Bartelse was playing a character throughout the piece, or if she was speaking as herself. This was especially confusing near the end of the show, when the mix of scripted dialogue and personal confession became quite unclear.
However, despite the minor flaws, this is a polished, interesting piece of theatre, and well worth seeing at the year's Festival.